The school community recognises and encourages the parents as the primary educators of their children and works in partnership with all families to help children achieve their potential. Family traditions are deeply valued at St Rita's and we strive to develop positive relationships with all our students and their families to achieve optimal outcomes for learn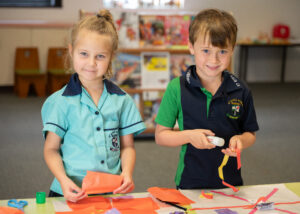 ing and growth. St Rita's is a small school with a community environment and tangible family atmosphere. everyone is encouraged to become involved in the life of our school. Families are always welcomed and encouraged to participate in special whole school events. Parents are highly valued and respected as partners in the education of our students. They are especially welcomed to the classroom.
The students and families are encouraged to be active members of the local Babinda community through events such as the Harvest Festival. The Parents and Friends Association is active in the community, helping to make links and build positive relationships.
Parent volunteers co-ordinate the tuckshop one day a week, providing nutritious and healthy food for the staff and students.
Parents take their turn on a rostered system to mow and tend the gardens, contributing to the overall aesthetic appeal of the school.