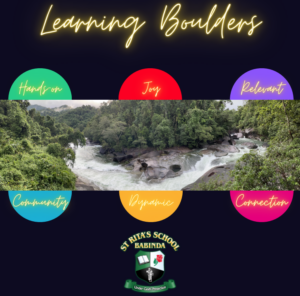 With just over 40 students, St Rita's School, Babinda is a small school with a big spirit!
St Rita's is described by newcomers as a peaceful place of learning. It is also a happy place with a vibrant school spirit, a friendly family feel and a safe, caring learning environment.
The school's core values of Learning, Respect, Community, Faith are truly lived at St Rita's and embody our school culture.
Our School Learning Boulders of; Joy, Dynamic, Connection, Hands-on, Relevant and Community are woven into all learning experiences at our school.
St Rita's has small multi-age classrooms, currently boasting a P/1/2 class, 3/4, and 5/6 learning areas. We provide a challenging learning environment where students can achieve their potential across all Learning Areas, with an emphasis on meeting the needs of each individual learner.
Small class sizes allow an excellent student-teacher ratio for differentiated programs to be developed by teachers. We value each child as a unique learner with individual learning styles and differing needs. Our teachers develop their weekly programs to suit the specific needs of their class to create an optimum learning environment.
St Rita's School embraces being an integral part of the Babinda community, participating in and contributing to its social and cultural life. Our school is actively involved in significant local community events: the Babinda Harvest Festival, ANZAC Day ceremonies, Under 8's Day and NAIDOC Week celebrations.
As a parish school, St Rita's is the 'heart and soul' of the Babinda Catholic community. We strive to make Jesus real in the lives of our students, and Gospel values permeate all that we do and say at school. Out school values of Learning, Respect, Community and Faith underpin all that happens at St Rita's and these values are tangible across the school.
St Rita's offers local families a quality, faith-filled education that is now even more affordable. Although concessions are available to all families in Catholic schools experiencing genuine financial hardship so that no child is denied a Catholic education for this reason, Cairns Catholic Education has acknowledged the difficult economic conditions that the Babinda area is experiencing. As a result, from 2019 all new and existing families at St Rita's School will pay a maximum of $480 per student per year ($120 per term) for Tuition Fees and School Levies, books and stationary, all-inclusive.
Bus fares will also be paid by the school on behalf of students and the amount payable after the allowable rebate will be invoiced to families.
At our school, we are a welcoming and embracing learning community. You are invited to visit St Rita's to find out more about this special place and what we can offer your family. Enquiries are always welcome. You don't have to wait for an Open Day to visit us!