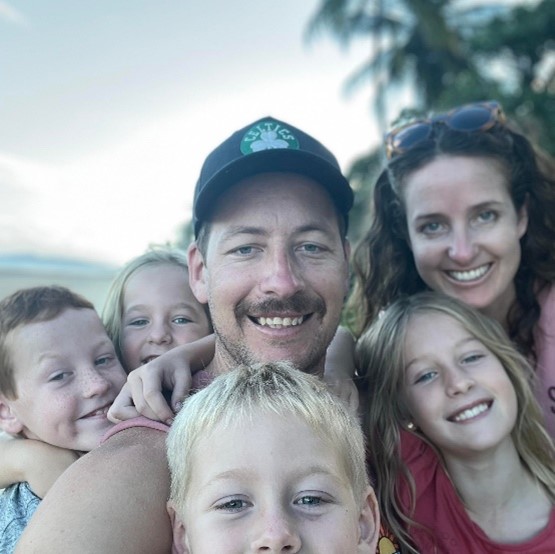 G'Day, my name is Michael Rowe and I'm very proud to be the Principal of St Rita's School in Babinda. I am passionate about providing an innovative, relevant, and context-driven way of learning for our students at Babinda.
I also coordinate Religious Education and teach Health and Physical Education across the school. I am very fortunate to be able to engage in these two passions of mine.
My wife Rebekah and I have four children, Evie 11, Jude 9, Abel 7, and Madeline 6, all of whom attend St Rita's. As a family, we love traveling in our caravan and seeing this beautiful country of ours. I love sports, in particular AFL, and support the Hawthorn Football Club and play for the South Cairns Cutters.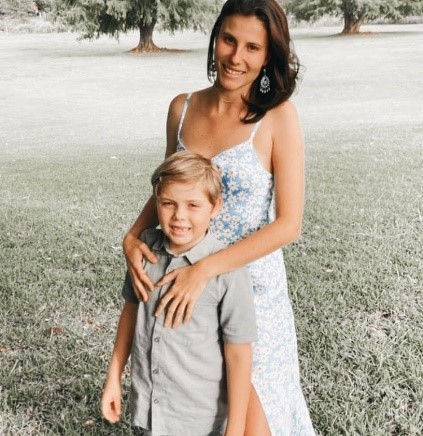 Hi! My name is Sam Benvenuti, I feel so fortunate to be a part of the St Rita's crew! I have the absolute pleasure of working across all year levels P- 6 as Leader of Learning and Teaching/ Deputy – Principal. I love working with all students and seeing them flourish in aspects of their learning.
Giving students the confidence to succeed is one of the very reasons I chose to become an educator. I love collaborating with other educators, having rigorous discussions surrounding engagement and learning, and thus creating new ways to teach the ever-changing curriculum. Currently, I am teaching the Arts- which I absolutely love!
When I am not working, I enjoy spending time with my son Hudson- swimming in creeks, cooking together, etc. I also enjoy writing poetry and (attempting) to play the piano and guitar. 😊 Watching students with their "ah – ha" moments and making a connection to a concept that may have previously been difficult is the most wonderful thing to see.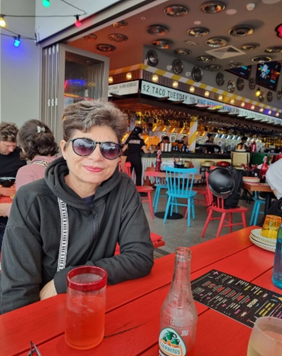 Hello, my name is Vicki Jago and I'm a heritage-listed family! I uphold the foundations of this school, as the longest-serving teacher. I am older than the St Rita's statue at the front of the school. I teach Science to the whole school; classroom support in the P-2 classroom, teach English and Math; and I am also the school's Learning Support teacher. I am passionate about teaching Math, and incorporating 'hands-on' activities and games to make activities enjoyable.
When I'm not at school, I enjoy cooking meals that are full of flavour and savouring each mouthful. I also enjoy harmonising while singing with others.
I am looking forward to 2023!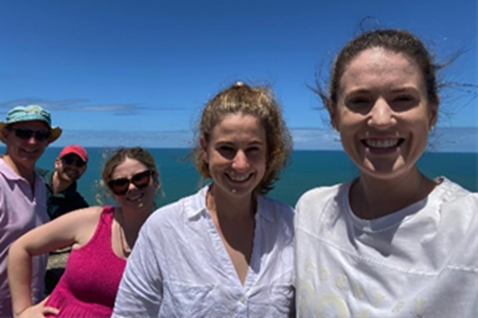 Hello! My name is Anna Wilson. I am the Prep/1/2 teacher. I am originally from Brisbane and moved up to Cairns to begin my teaching career here at St Rita's in 2021.
I have a passion for teaching the lower primary years and love to see them learn and grow every day. When I am not at school, I love to spend time with my family and friends, traveling exploring new places and playing sports.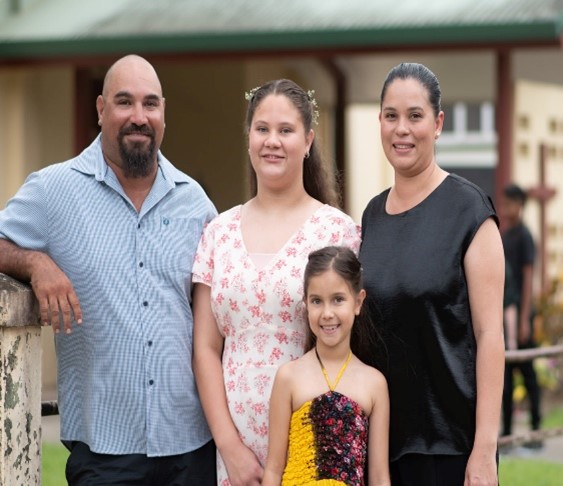 Hi, my name is Maryjane Masina, and a warm welcome to the 3/4 classroom! I am excited about teaching again with our creative 3/4 students, especially engaging in hands-on, relevant learning that connects to children's imagination, creativity, and collaborative team-building skills. I am passionate about teaching and inspiring young people, helping them to discover, explore and master a wide range of life skills (sometimes these are not school related like DIY painting/ coaching sporting teams) building upon knowledge, developing capabilities, and one's self-esteem.
My husband Daniel and I have two beautiful daughters, Eva in Yr 8 and Maddisyn in Yr 4. I love spending time at home with my two fur babies Rogue and Ruby. When I am not at home cooking or baking, I am often down at the Innisfail pool involved in the Innisfail Red Devils Swim Club, teaching 'Learn to Swim/ mini-squad' or on an AFL oval with the Gordonvale Suns.
I love tasting the cuisine of different cultures, I have a sweet tooth for dessert, and curling up with a great read is a favourite pastime of mine.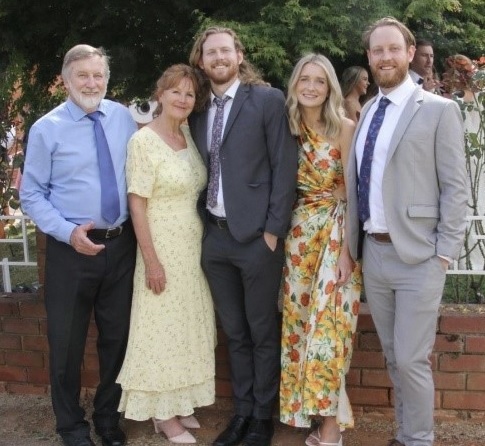 Hey! My name is Bridie Naughtin. This year I'm lucky enough to join the St Rita's community and couldn't be more ecstatic about it! It'll be my 4th year in a row teaching Year 5/6, which is where my passion for teaching lies. I get excited by the activities you can do with senior kids, including how we can integrate technologies to make learning innovative and engaging.
I've moved from Melbourne, over 2700km's away, for a change in scenery and am so far mesmerised by the Babinda area! I look forward to meeting the families of our students over the coming weeks and am excited to get more involved in all the Babinda community has to offer.
In my spare time, I enjoy all things outdoors, particularly hiking, camping and swimming (tips for the best, croc free swimming holes are welcome!). Some other hobbies you might catch me doing are: enjoying live music, veggie gardening, and Kmart. Bring on 2023!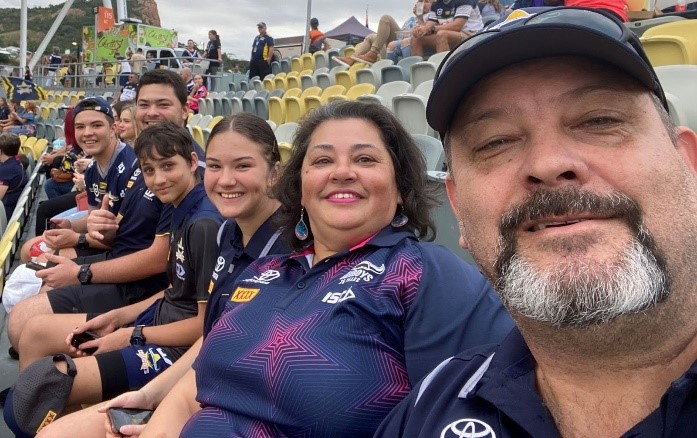 Hello! My name is Jenni Stone and I am blessed to be one of St Rita's School Learning Officers and the school's SAKG Facilitator. Having originally trained and worked as a secondary humanities and maths teacher, being an educator is something I truly treasure. Providing children with innovative and hands-on opportunities to acquire the knowledge and learn the skills necessary and relevant to their continued development as individuals who engage in their community is a priority in our rapidly evolving world.
My husband Ben and I have four children, all of whom have attended St Rita's before attending Good Counsel College, Innisfail for secondary education. Clifford is 21 and has completed his marine electrical trade qualifications while serving in the Royal Australian Navy. Nicholas is 17 and awaiting his enlistment date for the Australian Army to complete a plumbing apprenticeship. Georgina is 16 and completing her Year 11 studies with aspirations to be a primary school teacher, while Harrison is 15, completing Year 10 and wanting to pursue a military trade career like his father and brothers.
Nothing is more rewarding than being a parent, however, the joy the students of St Rita's bring to my life on a daily basis ranks very highly. The most rewarding aspect of my school officer role is being able to support and help nurture the students, inspiring and empowering them to reach their full potential in a school focused on inclusivity.
Away from work, I co-own the Babinda Choi Kwang Do martial arts school. I am also involved in two community organisations, the QCWA Babinda Branch and as the committee secretary of the RSL Babinda Sub-Branch. In the spare time I do have, I enjoy cooking and baking for my family and friends, sewing and needlecrafts, reading, and participating in water sports and tennis. My family are avid fans of the Brisbane Heat (cricket) and die-hard NQ Cowboys (NRL) and Collingwood (AFL) supporters.
Each year brings change. No doubt 2023 will have its fair share – one of which I sincerely hope is the resurrection of the gardening and cooking lessons of the SAKG Program.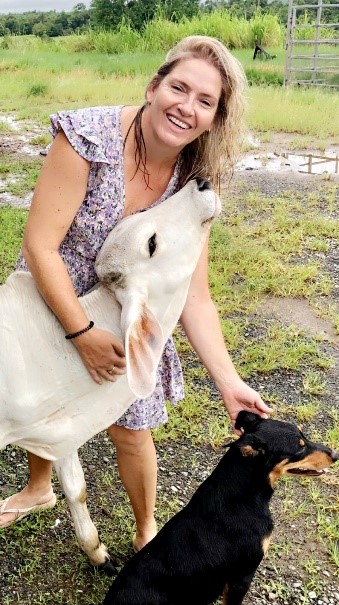 Hello. My name is Miss Jo, I am the School Counsellor for Babinda one day a week on Tuesdays. I just love the students at St Rita's and my job is a privilege to support their wellbeing and growth.
I live on a farm at Eubenangee with my husband and three sons, growing cattle, taro, pumpkins and watermelons. As a family we love our animals and all things outdoors, so when we are not working, we can be found out at sea, by the beach or chilling by a creek. I look forward to working with the St Rita's community again this year in supporting students to shine and reach their full potential.